Project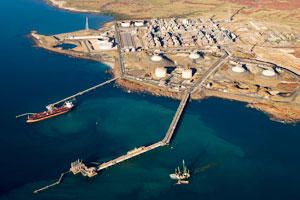 The Woodside-operated North West Shelf (NWS) Project's facilities constitute Australia's largest oil and gas development and represent an investment of more than $34 billion.
Accounting for more than one third of Australia's oil and gas production, the NWS Project is a joint venture between six major international companies. It is one of the world's largest liquefied natural gas (LNG) producers, supplying oil and gas to Australian and international markets from huge offshore gas, oil and condensate fields in the Carnarvon Basin off the north-west coast of Australia.
With an international reputation for the safe and reliable delivery of LNG to customers in the Asia Pacific region and other parts of the world, the NWS Project has supplied in excess of 5700 LNG cargoes since 1989.
The NWS Project also produces liquefied petroleum gas (LPG), oil and condensate - a light crude oil - for international energy markets.
The NWS Project continues to invest in its long-term future, pursuing new opportunities through operational excellence and investing in existing operations.
More information: